Growing up, I loved going to Chili's and ordering their chips & salsa, southwestern salad, and the chocolate lava cake. It was a little tradition for me-time on good days.
Recently I started craving that salad. Usually they serve it with chicken and each time I order it without chicken, they always serve it with… you guessed it- chicken. After being tired of sending it back multiple times, I stopped going to Chili's.
Since I was craving it and not in the mood to deal with chicken in my dish again, I thought why not just make my own?
I'm glad I did! With the grilled tofu and tortilla strips, my mouth and tummy was very happy for such a crunchy and satisfying dish. My me-time was complete once again.
This goes really well with cilantro lime dressing and grilled tofu.
Southwestern Taco Salad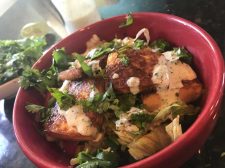 This crunchy and satisfying salad will cool you down on a hot summer day. The beans and vegetables mixed in provide extra protein and macronutrients to sustain you throughout the next few hours.
Prep Time

20 min

Yield

4 Bowls
Ingredients
1 romaine lettuce, chopped
1/2 bunch of cilantro, destemmed and chopped
1 container of grape tomatoes, quartered
1 can of black beans
1 can of corn
avocado, diced
tortilla strips
Method
1
Mix all ingredients except cilantro, avocado, and tortilla strips in a large bowl.
2
Top with tortilla strips, cilantro, and avocado.