Spring rolls are so delicious and refreshing to eat. Sometimes I want to eat them but don't have the energy to make them or to go out.
So I present you a deconstructed idea. Instead of rolling them up, lets put everything in a bowl and enjoy it like that.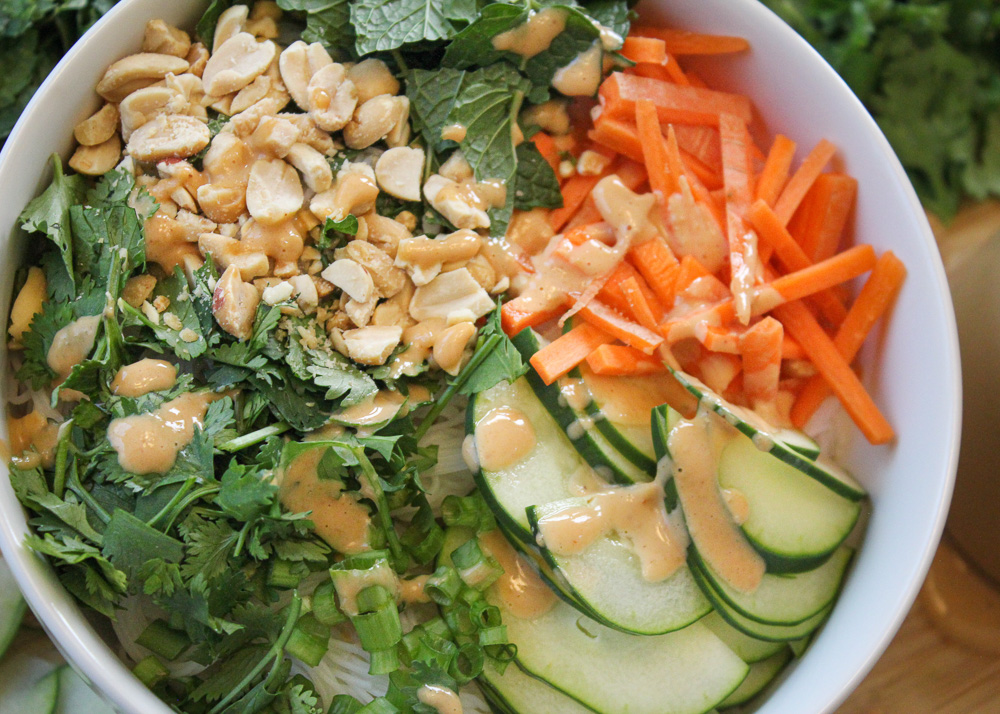 It might take a little prep time. However, once everything is prepped, this dish can be whipped up quickly.
The mint and cool temperature of the food is perfect on a hot day. It's light enough to prevent that post-meal drag but heavy enough to satisfy your hunger.
And it's perfect with the creamy peanut sauce. A match made in bliss.
Crunchy Thai Spring Bowl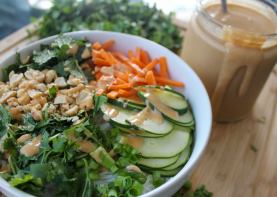 A deconstructed spring roll made into a bowl. It's easy, satisfying, and perfect for a hot day.
Prep Time

15 min

Total Time

15 min

Yield

4 Bowls
Ingredients
1 package of rice vermicelli noodles cooked
1-2 cucumbers, cut lengthwise and thinly sliced
1-2 carrots, julienned
1 bunch mint, roughly chopped
1 bunch cilantro, roughly chopped
4 stalks of green onions, chopped
1/4 cup peanuts, crushed
1/4 cup peanut sauce
Instructions
1
Prep all the ingredients. Lay them out on a cutting board or plates.
2
Diners can create a bowl of rice noodles and top it with the ingredients they choose (hopefully all of them). Drizzle with the peanut sauce & enjoy.