Tofu is a great protein that absorbs the flavors you immerse it into.
Tofu is also known as bean curd. It's made from soy through a process that coagulate soy milk and presses the substance into solid white blocks. These white blocks range from extra soft to extra firm, depending on the purpose you need it for.
For today, we're focused on grilling tofu, so we'll need to use firm or extra-firm. You also want to make sure you buy organic or non-GMO tofu to avoid any health complications (I'm working on a blog post that will explain the benefits and not-so-benefits of tofu.).
Lets get back to yummy, grilled tofu.
Grilled tofu is a great addition to almost any dish. I love adding it to my salads (like the Southwestern Taco Salad) or simply on top of rice with my favorite condiments. You can top tofu with cilantro lime dressing, honey mustard, Frank's hot sauce, verde sauce, and so on.
Once you master this recipe, you'll be able to add tofu to any dish any time.
It's super easy to make. The instructions on this page looks long but only beacause I want to share tips so you can feel confident in making this dish.
The easy way to grilled tofu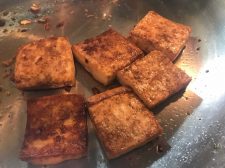 A straightforward way on how to grill delicious tofu for your salad, rice dish, and more.
Prep Time

6 min

Cook Time

20 min

Total Time

26 min

Yield

Feeds 2-4
Ingredients
1 package of extra firm tofu
4 tbsp of soy sauce or Bragg's liquid aminos
1 tsp of balsamic vinegar
2 tbsp coconut oil
1
Open the package of tofu and drain the liquid. Press the tofu with paper towel until most of the water has drained off. (Tip: you can put tofu on top of a towel on a baking sheet and put another towel with a heavy book on top of it. Leave this for a minute or until the tofu is dry enough to your satisfaction.)
2
While the tofu is drying, make your marinade. Mix the soy sauce and balsamic vinegar (or any marinade recipes you want to use) in a small bowl. Set aside.
3
Slice the tofu in 1/4″ thick slabs. You can cut the slabs into 1/2 for a more square piece, if you prefer.
4
Put the tofu pieces in a small baking sheet and pour the marinade over it. Let it soak in the marinade for five minutes, flipping once halfway. (Tip: if you let the tofu marinade overnight, the flavor will be much more powerful and satisfying. But do not fret if you are in a hurry, five minutes is still enough to have just enough flavor.)
5
Preheat a large pan over medium heat. When hot, melt coconut oil in the pan, angling the pan to coat the entire bottom.
6
Place the tofu pieces in the pan, shaking the pan often to make sure the tofu doesn't stick to the pan. Once the bottom turns golden brown, flip it over and repeat.
7
Once both sides are golden brown, serve in your latest dish.
Note: Substitute the soy sauce and balsamic vinegar with any of your favorite marinade.